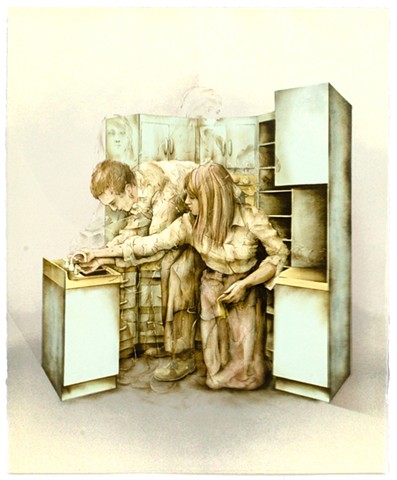 "Eating, when we do it consciously, feels as serious, and even sacramental, as if our lives depended on it – which happens to be the case." -- Peter Schjeldahl, Art Critic.
Eating and other rituals surrounding food are the context of this work. We eat our meals in various states of awareness of the act and significance. I find myself looking with curiosity at the space, time, and manner in which we eat, prepare, and acquire our meals. My original perception of these moments is often interrupted or distracted. I return to them with the attempt to create a curious space where questions form.
See my work in the following publications:
500 Paper Objects (Juried Exhibition in Print)
Published by Lark Crafts, Juried by Gene McHugh
Williams, Austin R. "New and Notable: Andrew DeCaen," Drawing, Winter 2013, 96.
Jules, Linda. "Tapping the Third Dimension," Printmaking Today, Vol. 25, Autumn 2016, p. 26-67.